FNU offers free reskilling and upskilling courses
Press Release Posted On: December 14, 2021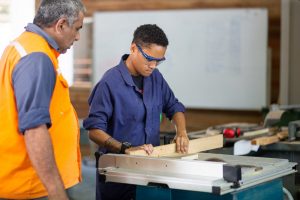 The Fiji National University (FNU) will offer a range of reskilling and upskilling courses free of charge to interested students who meet the criteria, from next year, thanks to a 1 million dollar grant from the Fijian Government as announced in the 2021 national budget.
FNU Vice-Chancellor Professor Toby Wilkinson said the courses are designed to reskill and upskill those who have lost their jobs due to the economic impact of the pandemic and prepare them for new jobs and successful careers in the same or different industries.
"Each of the courses has been designed in partnership with industry to meet the evolving needs of the labour market. For example, the tourism and hospitality sector has lost thousands of jobs in the past 18 months and will need to re-hire staff to meet rising demand once borders fully re-open. But tourism in the future will not be the same as it was before COVID-19. Tourists will be more discerning, and Fiji's tourism offer will have to adapt in order to thrive in a more competitive environment," stated VC Professor Toby Wilkinson.
Professor Wilkinson mentioned that across all employment sectors, for individuals and companies alike, there is an urgent need to reskill and upskill to meet the demands of the post-pandemic economy.
"FNU's short courses, in areas like digital marketing, office automation and cyber security, provide the essential skills needed for individuals to gain jobs in the growing e-commerce sector."
Criteria
To qualify for the free Reskilling and Upskilling placement at FNU, prospective students will have to submit a Statutory Declaration of unemployability due to COVID-19, a valid photo ID, TIN details along with their birth certificate.
All applications are to be submitted by 22 December 2021. Visit this link to complete the form: www.fnu.ac.fj/study/apply
The first round of short courses will be offered in January 2022.
The courses offered are as follows:
National Training and Productivity Centre
Management Development and Leadership – Hospitality
Manage Payroll
Strategic Planning, Effective Budgeting and Cost Control
Construction Fundamentals
Plumbing Basics
Tile Laying
Brick Laying
Plastering Basics
College of Business, Hospitality and Tourism Studies
Business Startups
E-Commercial and Digital Marketing
Sustainable Tourism
New Tourism Soft Skills
Basic Operations in a Call Centre
College of Engineering, Science and Technology
Analysis of Cloud Data Management
Office Automation
Diagnose and Repair AHVAC
Cyber Security Digital Platform
Data Communication and Networking
Engineering Project Management
Explore the Uses and Applications of Artificial Intelligence
Professional Certificate in Vehicle Inspection
For further information or clarification visit www.fnu.ac.fj or contact the following staff: