FNU marks World Suicide Prevention Day, launches Mental Health Awareness Month
Press Release Posted On: September 15, 2021

The Fiji National University (FNU) has commenced its Mental Health Awareness Month after launching the initiative whilst marking World Suicide Prevention Day last Friday.

Organised by the College of Medicine, Nursing and Health Sciences (CMNHS), the World Suicide Prevention Day virtual event was attended by students and academic and support staff of the University.

FNU Vice-Chancellor Professor Toby Wilkinson said World Suicide Prevention Day was an important event that highlighted global and national efforts to prevent suicide.

Prof Wilkinson said a comprehensive, multidisciplinary and integrated approach towards our Mental Health and Wellbeing was needed to address the issue.

"As a signatory of the Sustainable Development Goals (SDG) Accord, FNU is fully committed to the objectives of SDG Goal 3 on Good Health and Wellbeing," he said.

"Prioritising our mental health has never been more important. The theme of this year's World Suicide Prevention Day, 'Creating Hope Through Action', is both timely and appropriate."

"Today's commemoration aims to raise awareness about suicide prevention within our university community and our nation. Each of us has a role to play, by raising awareness, reducing stigma and encouraging meaningful and safe conversations around mental health and wellbeing."

Acting Deputy Vice-Chancellor, Dr William May, also launched the University's Mental Health Awareness Month, which commences on World Suicide Prevention Day (10 September) and run until World Mental Health Day (10 October).

"FNU is a pre-eminent institution for higher education in Fiji and the region, training professionals across the workforce to become dynamic leaders in their respective countries," Dr May said.

"Therefore, it strives to take the leading role for implementing effective strategies to promote mental health amongst members of the College communities, by supporting those members experiencing mental health issues, and more so during these difficult times."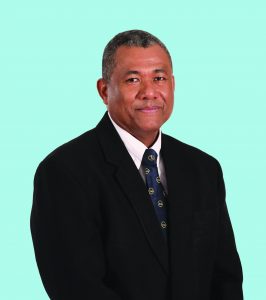 Dr May commended the College for designing the CMNHS Wellness Guide for Students and Staff, which details mental health promotion and support strategies.
"This is a perfect example of how the University aims to stay true to its commitment to looking after the wellbeing of its members," he said.
"The Wellness Guide hopes to promote and develop psychological resilience and good mental health, support students and staffs with mental health issues and lastly, encourage mental health awareness activities."
A team of staff and students from CMNHS and the Counselling Services Unit have planned University-wide mental health events and activities throughout the month.