FNU marks World Press Freedom Day
Press Release Posted On: May 9, 2023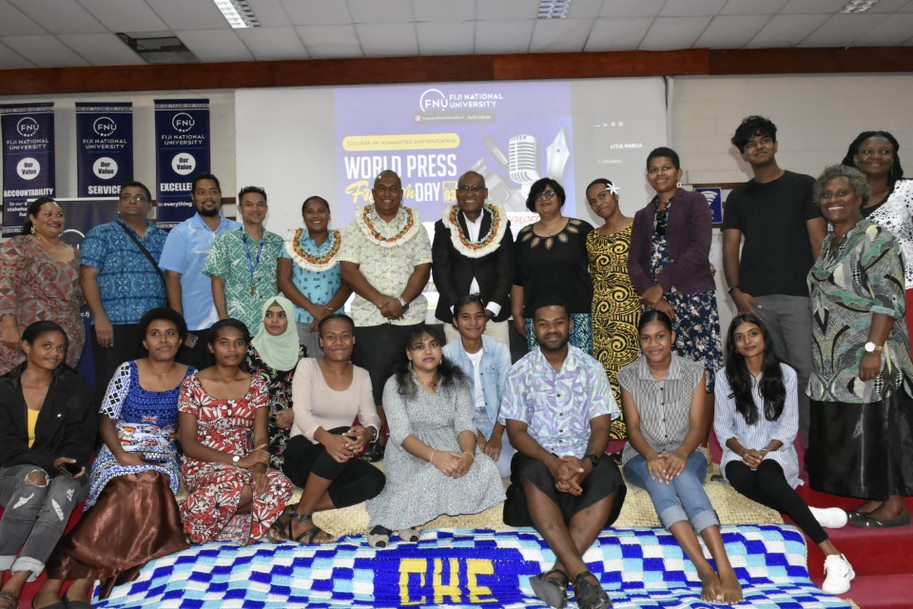 The recent repeal of the Media Industry Development Act 2010 by the Coalition Government has sparked renewed media freedom in Fiji.
These were the shared sentiments of The Fiji Times Editor-in-Chief, Fred Wesley and the Integrity Fiji Executive Director Dr Joseph Veramu at the 2023 World Press Freedom Day celebration organised by the Fiji National University's (FNU), College of Humanities and Education at the Nasinu Campus.
The event was held under the theme 'Shaping a Future of Rights: Freedom of Expression as a Driver for All Other Human Rights.'
Wesley, who has been the head of the Fiji Times newsroom for the past 12 years, shared some of the legal battles the company endured while reporting to the citizens of Fiji.
"Media companies should never be put under suppression again. The people of Fiji must never be suppressed again. There has to be vibrant discussions and engagement in the governance of our nation for and by our people. People have the right to know the truth; they have the right to know the true extent of the challenges we face as a nation," he said.
Dr Veramu said for FNU, the new democratic freedom provided students and academics with the opportunity to proactively use their freedom of expression for the greater good of Fiji, the Pacific, and the world. "We have experienced that when freedom of expression and media freedom are suppressed, all other freedoms are at risk," Dr Veramu said.
"We also acknowledge our unsung heroes, the journalists in Fiji, who suffered great hardships in reporting the truth. They have done great work, and we are all deeply grateful to them."
FNU's Head of Department for Communications and Media, Suzie Aziz, added that media freedom comes with responsibility, and that journalists should be well read, well informed, educated and well qualified.
"It is an important day to mark World Press Freedom Day, which deals with the freedom of expression for journalists to talk, write, and relay the news to us without any fear, without being suppressed, oppressed, prosecuted, or threatened," Aziz said.
FNU's Bachelor of Media and Communication third-year student and Fiji Sun journalist, Lusiana Tuimaisala, said the repealing of the 2010 Media Industry Development Act was a significant action and a welcomed step forward for the region.
"The repeal of the Media Act represents a victory for press freedom and the protection of human rights in Fiji, which are essential ingredients for democratic governance and accountability," she said.
"It is a testament to the hard work of journalists, civil society groups, and advocates for free speech who have long been campaigning for this important reform to occur."
"Even though the Media Act has been repealed, there are still some laws that need to be followed, such as the Defamation Act and Crimes Act. This means that journalists and media organisations have to uphold responsible yet transparent and factually verified reporting."