FNU Launches 'Careers Chat' series program for Students
Press Release Posted On: June 18, 2021

Receiving career advice from industry experts is a valuable asset especially for university students who after graduation actively seek employment prospects to become financially independent.

The Fiji National University (FNU) through the Office of the Registrar which administers and manages student affairs, has initiated a Careers Chat series that will feature industry experts to speak with students on a range of topics related to employment prospects and career advice.

Organised by the Department of Student Support Services the sessions also provides students with an opportunity to listen and to talk directly with guest speakers who are career professionals in their various and respective fields.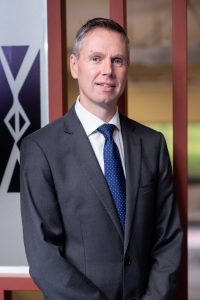 FNU Vice-Chancellor Professor Toby Wilkinson said this latest initiative underlined the University's commitment to ensuring that graduates are day-one work-ready.
"Students naturally have many questions about their future careers. Careers Chat enables our students to hear directly from industry leaders and to understand what employers are looking for when hiring new staff," said Professor Wilkinson.
"I am encouraged to see the positive response from our students, which shows their eagerness to learn, develop, and maximise their career opportunities."
The series provides a platform for invited career professionals to share sector-relevant knowledge and experience.
"The sessions are designed to showcase how career professionals have adapted to the current pandemic, and will help our students understand the attributes that will give them the edge in a competitive labour market," said VC Wilkinson.
FNU Registrar Sarita Devi said career preparation is a core service of the University provided to all students and the Careers Chat program provides the platform for students to connect directly with mentors.
"We are committed to ensuring that students are given holistic support services as they study from home. Career services, virtual campus life activities, health and wellness and welfare continue to be supported by our team of dedicated staff and we are grateful to all our students and FNUSA who are managing their study commitments and also engaging with us in these events," said Devi.
The Chief Executive Officer for Port Denarau Marina in Nadi, Cynthia Rasch featured in the opening Careers chat.
Rasch is a trailblazer in her field being the first person in Fiji and the Pacific to be accredited as a globally Certified Marina Manager. Previously she has held several senior managerial positions in various organisations.
She spoke to students on several topics including the importance of developing soft skills, being a problem solver, accountable, responsible and being a team player. Rasch also highlighted the importance of being adaptable to change and having the ability to quickly think and act on one's feet.
"I'm glad to be given this opportunity by FNU to speak with students who will one day be part of our workforce after completing their studies," said Rasch.
'I believe this is not only a wonderful initiative but an important one as it provides students with an opportunity to hear directly from industry representatives on what we look for in employees and also clears any doubts they may have when it comes to looking for employment opportunities."
Ranjeeta Devi, a student studying in the Bachelor of Education (Early Childhood) program was inspired and encouraged by the session especially with the advice that despite one's disability, employment opportunities are the same and that together with academic achievements one can cultivate and demonstrate vital soft skills.
"After being part of the Careers Chat, it has motivated me to work on my soft skills instead of focusing on my disability," commented the FNU student.
The session was open to all FNU students and included a sign language interpreter for the hearing impaired.
Kalesi Tuipulotu a Post Graduate Diploma in Nursing Leadership student also participated in the session and was grateful for the opportunity to be a part of the first virtual chat session, she was able to gain such valuable and informative insights on the day.
"Thank you for the Careers Chat. It was motivating and inspiring to be given the opportunity to be part of the careers program," Tuipulotu commented.
More exciting sessions with guests from a wide range of professional fields are planned in the coming weeks.
The Student Support Services Department will keep students updated on upcoming sessions. Students are encouraged to take advantage of these Careers Chat sessions and participate in the program for their further development.