FNU hosts inaugural research competition
Press Release Posted On: November 1, 2022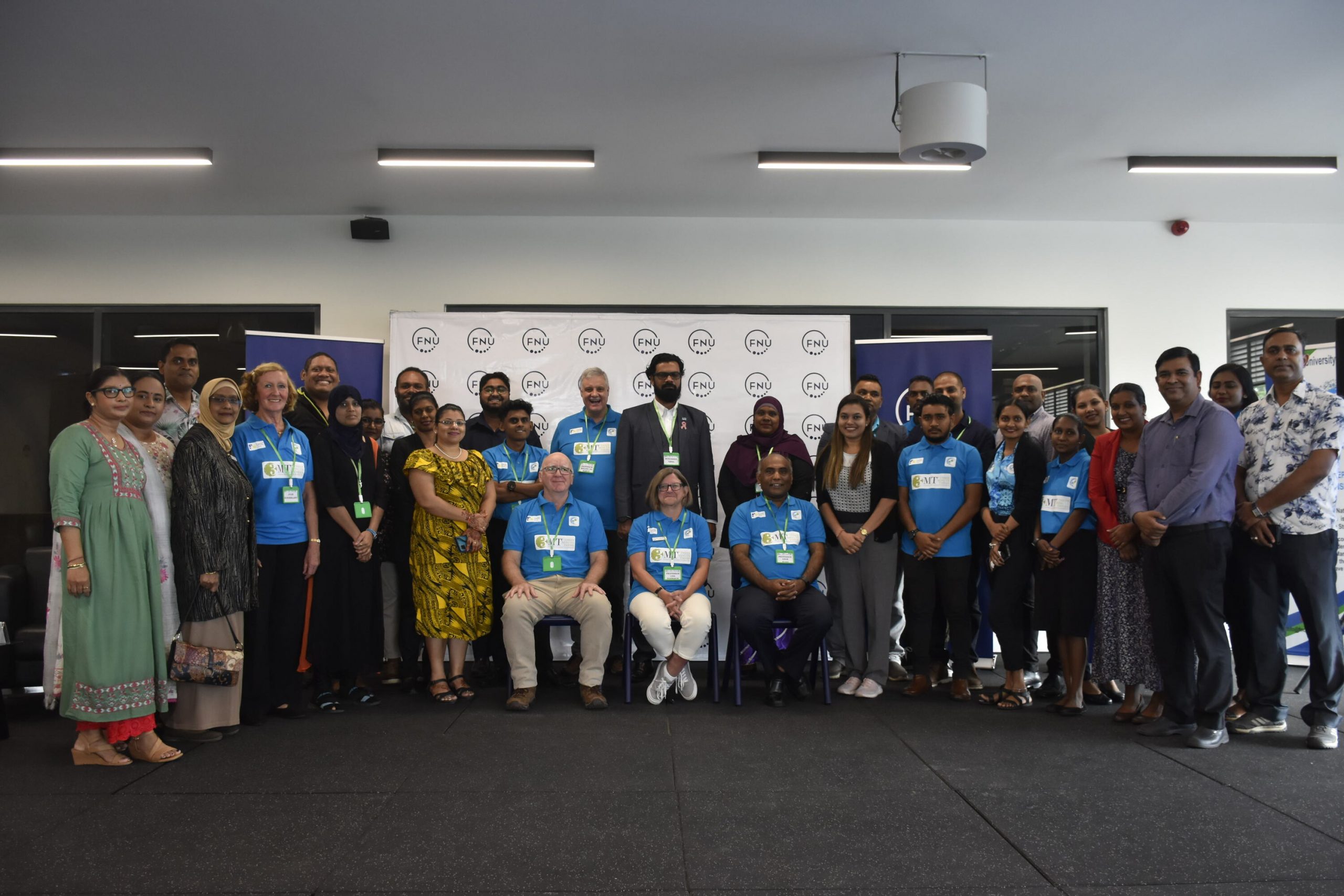 As the national tertiary institution, a strategic objective of the Fiji National University (FNU) is to undertake research with real-world impact that is aligned to national priorities and with global relevance.
The University fosters a research culture whereby students and staff engage in quality research that contributes to policies and development.
To highlight the research work being done at the University, the Research Office with the sponsorship and support of the University of the Sunshine Coast, Australian Centre for International Agricultural Research and FNU Student Association recently organised its inaugural Three Minute Thesis (3MT) competition.
The competition brought together a diverse and interdisciplinary cohort of higher degree by research (HDR) students to develop and present elevator pitches of their thesis topics, as pithy, compelling and plain English talks.
In three minutes, participants are required to present their research problem, solution, hypothesis and approach in addressing their thesis topic to an audience of peers, as well as a high-calibre jury of experts from academia, business/industry and the public.
Six finalists representing each of the Colleges at FNU presented at the 3MT Competition at the Sports and Wellness Centre complex at the Nasinu Campus.
College of Agriculture, Forestry and Fisheries (CAFF) Masters student, Nazeea Bano was declared winner of 3MT competition and was awarded a cash prize of $3,000. Additionally, Bano was also declared a People's Choice Award recipient by popular vote by the audience.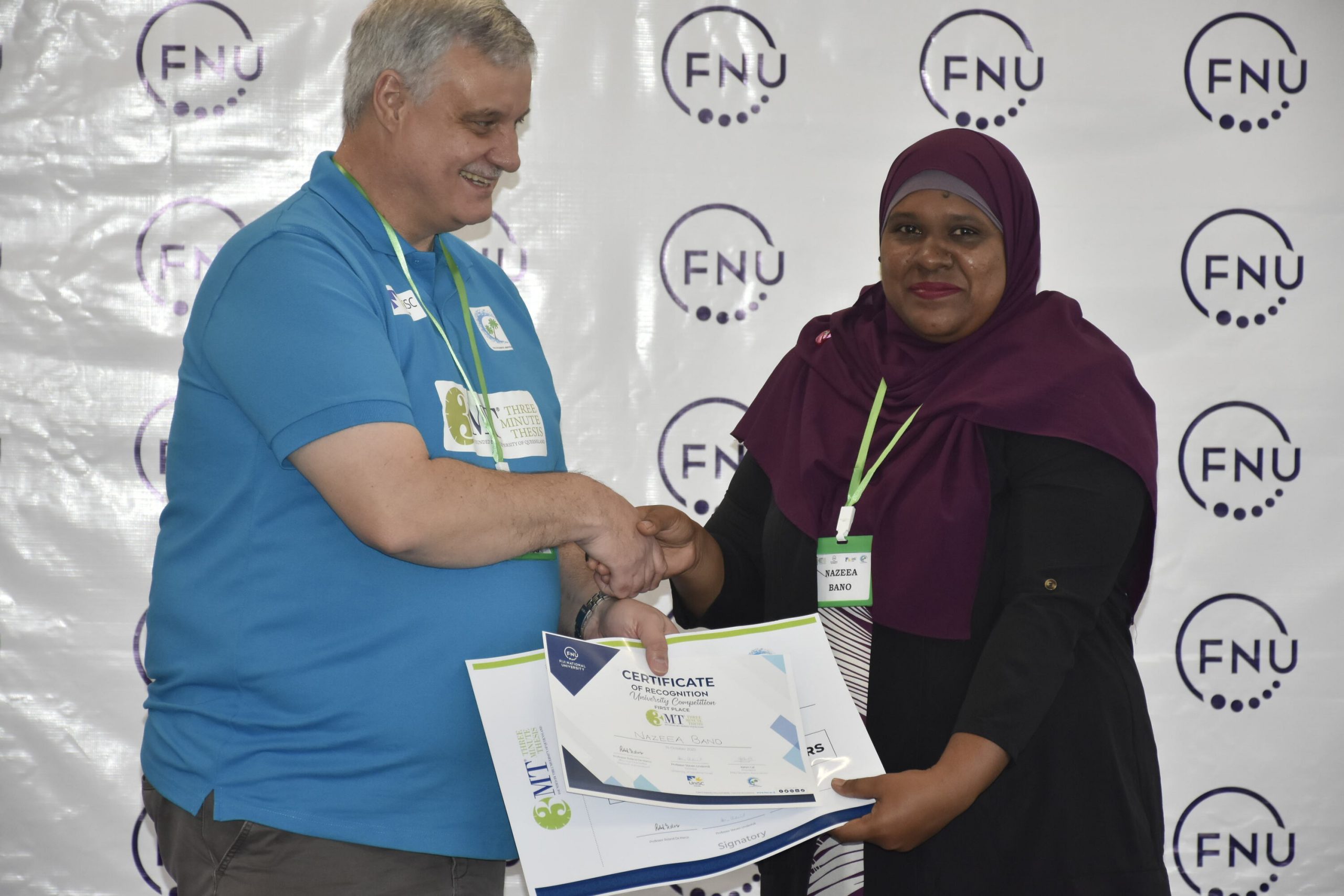 Bano is currently employed by the Fiji Sugar Research Institution of Fiji and presented on Green Manuring for Sustainability. She plans to develop the project further during her doctoral research degree.
FNU Vice-Chancellor, Professor Lyn Karstadt said FNU was the first University in Fiji to host this competition.
"This event also aligns well with the University's strategic vision of conducting research with real-world impact and can be a platform to highlight how our research is aligned to national priorities," Professor Karstadt said.
Pro-Vice-Chancellor Research and Innovation, Professor Roland De Marco indicated that FNU will extend the 3MT competition to other universities in Fiji in the future.  He also expressed that the art of delivering an elevator pitch is a critical communication skill in a fiercely competitive global environment, so FNU HDR students will benefit significantly from the acquisition of these skills in their future careers
The First Runner-Up, representing the College of Medicine, Nursing and Health Sciences (CMNHS), was Dr Raymond Keshwan who was awarded $2000. He was also the second recipient of the People's Choice Award.
The third People's Choice Award recipient was Shalendra Kumar from the College of Business, Hospitality and Tourism Studies (CBHTS).
Other participants included Jazbeen Ali from CBHTS, Sahil Kumar from the College of Engineering, Science and Technology (CEST), and Julie Sunderland from the College of Humanities and Education (CHE).
The 3MT competition is a challenging, inspiring, and interdisciplinary competition developed and widely distributed by the University for Queensland to show-case next generation of students and early-career professionals.
Ends.