FNU hosts first in a series of panel discussions on COVID-19
Press Release Posted On: June 11, 2021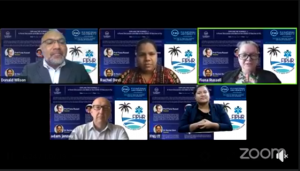 The Fiji National University's (FNU), College of Medicine, Nursing and Health Sciences (CMNHS) successfully hosted the first of a series of virtual panel discussions regarding COVID-19, the vaccine, the COVID test and questions related to the pandemic and prevention efforts.
Chaired by the CMNHS Associate Dean Research and Director of the Fiji Institute of Pacific Health Research (FIPHR), Dr Donald Wilson, the panellists consisted of alumna and Head of Fiji's COVID-19 Vaccine Taskforce Dr Rachel Devi, epidemiologist and paediatrician Professor Fiona Russel and CMNHS Adjunct Physician clinical microbiologist and infectious disease Professor Adam Jenney.
The panel discussion was conducted via Zoom and live-streamed on the FNU and CMNHS Facebook pages.
Questions and misconceptions by the public were sent in before the event via email and was posed to the panellists during the event for their responses, based purely on current and approved scientific evidence. The panel also answered questions that were messaged by the audience during the live session.
Addressing the videos circulating of people placing magnets that stick onto their site of injection, Prof Russel said these were 'trickery'.
"There is nothing in there that could cause magnetic forces," she said. "This is trickery that is going on and it's not real. Anybody can do this and make these videos and make it look real. This is just not correct," she said.
Outlining the vaccination rollout, Dr Devi said at first, they targeted front liners and the vulnerable population such as the elderly and those with underlying medical conditions like stroke, hypertension, asthma and heart diseases.
"And now, what we're doing is encouraging everyone who is 18 and above to get the jab." "That's the current rollout plans. We're not stopping anyone who is eligible from getting vaccinated."
Because the vaccines have been in use for less than a year, the panellists highlighted that tests were ongoing to determine the duration of immunity against COVID-19 of the AstraZeneca vaccine.
"All of these studies are being done and that will help us to understand whether we need to have a booster at some stage and whether that is every year or two years. So, we would have more information as time goes on," Prof Jenney said.
The panellists highlighted that people should not be alarmed as there were common side effects such as fever, joint pains, numbing, headache felt after receiving the vaccination that would subside with 24-48 hours.
"Some (side effects) linger more as each individual is different in their response but this is very closely monitored," Dr Devi said.
She said the Minstry of Health and Medical Services (MOHMS) has a register that recorded incidences of adverse effects to the vaccine.
Prof Jenney also detailed the process of the PCR (polymerase chain reaction) tests and how it would produce negative or positive results.
The panellists highlighted that all Fijians, including those vaccinated, should continue to practice COVID-safe precautions such as wearing a mask, physical distancing, using hand sanitisers and avoiding crowded places while travelling and regularly wash their hands with soap and water.
The next panel discussion is scheduled for Monday, 14 June and will be live-streamed on the FNU and CMNHS Facebook pages.
Click here to access the video and detailed highlights of the virtual panel discussion.