FNU conducts major roadshow to assist all prospective students
Press Release Posted On: March 17, 2022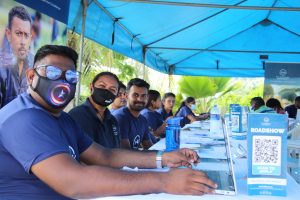 Year 13 and other prospective students can visit any of the Fiji National University's (FNU) roadshow locations this week to confirm and receive their offer letters, and receive academic counselling and assistance with their admission and registration process.
The roadshows are in addition to the guidance and assistance that students can receive at any FNU campus.
The roadshow teams will be beside Trinity Shop in Korovou Town, Rakiraki Old Market, near Max Value Supermarket in Tavua, at the Ba Town Bus Stand, My FNPF Centre in Nadi and at the Wishing Well in Sigatoka from 9 am to 3 pm tomorrow (Friday) and Saturday, 18 and 19 March.
In addition, students, parents and guardians can visit our FNU KONA Express Booths tomorrow (Friday) and Saturday, (18 and 19 March) from 9 am to 3 pm at Tappoo City, Suva and Shop & Save Supermarket in Navua for application requirements and academic counselling and queries.
Students, parents and guardians can visit these locations to also learn more about our free short courses, technical and vocational education and training (TVET) courses and higher education programmes on offer.
5000 TVET Places
Students completing or have completed Year 12 or 13 have the opportunity to undergo Semester 1, 2022 studies in any TVET course at FNU through the 5,000 Tertiary Scholarships and Loans Service (TSLS) placements.
Offered through the University's TVET Pasifika, these courses are Certificate III, Certificate IV and Diploma level qualifications.
Students eligible for TSLS-funded studies must have successfully completed Year 12 with a minimum mark of 200/400 or completed Level I and II studies from the Technical College of Fiji or equivalent.
Free Short Courses
Eligible Fijians can also apply for a Free short course at FNU as part of the Fijian Government's reskilling and upskilling initiative. As announced in the 2021 National Budget, the Government allocated $1 million to the national university to assist those who lost their employment due to the economic impact of the COVID-19 pandemic. This would assist eligible Fijians with re-employment and or entrepreneurial ventures.
To qualify for the Free Reskilling and Upskilling placement at FNU, prospective students will have to submit a Statutory Declaration of unemployability due to COVID-19, a valid photo ID, TIN details along with their birth certificate.
Applications are now open and will need to be submitted by Friday, 15 April 2022.
Semester 1 studies
Applications for Semester 1, 2022 studies at FNU are now open.
For enquiries, students can visit our website on www.fnu.ac.fj email the Academic Team via admission@fnu.ac.fj or call 9555760 or Text (Toll-Free) 857 for Vodafone and Inkk users.
Prospective students can also contact our Call Centre on 3432 966 and 9103413 from 9 am to 5 pm weekdays. Vernacular options are also available.