FNU commemorates World Suicide Prevention Day
Press Release Posted On: September 10, 2020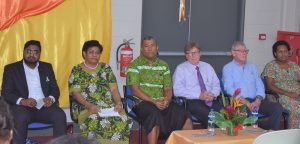 The Fiji National University (FNU) has beefed up its efforts to raise awareness on suicide and actions that can be taken to prevent such tragedies.
While launching FNU's 'Mental Health Awareness Month' today, Acting Vice-Chancellor Dr William May highlighted the alarming statistics on suicide-related deaths in Fiji.
"The data from the Fiji Police Force shows that from January to August this year, there are already 72 deaths by suicide. Seventy-one per cent people who lost their lives were male," mentioned Dr May.
The Acting Vice-Chancellor further revealed that half of the suicide victims were between the ages of 18-45 years.
"It is sad to note that five deaths from suicide involved people under the age of 17 years with two deaths between the ages of 6-12 years," he said.
Dr May mentioned that the awareness month would assist FNU staff and students in self-managing their mental health and well-being.
He stated that to address suicide prevention in Fiji, a comprehensive, multidisciplinary and integrated approach is needed.
"With the COVID-19 pandemic and 'new normal', addressing mental health issues and maintaining mental well-being is of great importance. We need to work together to prevent suicide and make the best use of resources and expertise. Fiji is losing young and productive people to suicide, which is preventable."
FNU's College of Medicine, Nursing and Health Sciences (CMNHS) and Office of the Registrar in collaboration with the FNU Student Association has also launched the 'Ask, Listen, Motivate, Ask again' (ALMA) initiative for staff and students to reach out to people who may be distressed.
"During the month, various programs related to mental health and wellness screenings will be organised at the different FNU campuses which will allow staff and students to engage in weekly activities to foster well-being actively," said FNU Counsellor Dharnesh Raman.
"The 'Talk-Time Tuesdays' programme will encourage them to reach out and connect with others. We have also organised wellness activities such as Zumba which will be conducted on every Wednesdays. Health screenings are also part of the initiative," added Raman.
FNU's 'Mental Health Awareness Month' will culminate with the World Mental Health Day celebrations on October 8.