FNU Basketball team through to finals
Press Release Posted On: November 18, 2022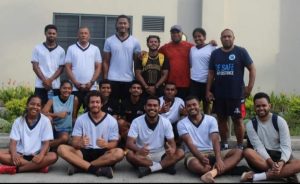 The Fiji National University's (FNU) Basketball team will play in the 2022 Business House Mixed Basketball Competition final tomorrow against the Fiji Police Force.
As per the competition guidelines, the team consists of students and staff of the University. The tournament also enables students to have an enriching learning experience during lectures and tutorials as well as on the field.
Second-year Diploma in Sports Science (Level 5) student, Charles Valentine said being a team member allowed him to participate as well as gain experience in tournament operations.
Valentine is also a part-time Gym attendant at the FNU Sports and Wellness Centre.
"As a Sports Science student, we are currently involved with the Basketball Fiji Federation as part of our assignment," Valentine said.
"Our assignment is to assist Basketball Fiji with their Business House Mixed Basketball Competition, which has been ongoing for about six weeks now."
"It has been a great learning and sporting experience so far and the FNU team is training hard in preparation of the final match."
College of Medicine, Nursing and Health Sciences (CMNHS) Dean, Dr William May, who is also part of the basketball team, said the players have progressed impressively throughout the tournament to reach the finals.
"This is a great show of the teamwork and effort of our students and staff," Dr May said.
The final will be held on Saturday, 19 November at the FNU Sports and Wellness Centre multipurpose courts at Nasinu Campus.