FNU appoints Professor Lyn Karstadt as Vice-Chancellor
Press Release Posted On: August 5, 2022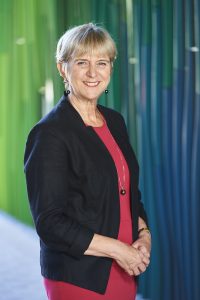 The Fiji National University (FNU) Council is pleased to announce the appointment of Professor Lyn Karstadt as Vice-Chancellor of the University, commencing on 5 September 2022.
Chancellor and Chair of the FNU Council, Ms Tessa Price said Professor Karstadt was recruited following an extensive international recruitment process.
"The Council is happy to announce the appointment of Professor Lyn Karstadt, who makes history as the first female Vice-Chancellor of the national University. The FNU family looks forward to welcoming her to the institution," Ms Price said
"Professor Karstadt has more than 20 years' experience in executive and leadership roles in higher education in Australia and the United Kingdom (UK) and this aligns well with FNU's priorities during its next decade of providing learning, teaching and research opportunities."
"The incoming Vice-Chancellor boasts a strong national and international profile bringing with her an innovative and entrepreneurial management style that takes a strategic and solutions focused approach resulting in fiscal and reputational gain."
Between 2016 and 2020, Professor Karstadt was Deputy Vice-Chancellor (International and Advancement) at Murdoch University in Western Australia. Through this role she gained the requisite skills and experience relating to research, governance, budget control, and change management. She also established new collaborations and business opportunities and facilitated institutional expansion in Dubai and Myanmar in partnership with third party providers. More recently she has focused on organisational facilitation and the preparation and support of both executive leaders and mid-career professionals in Healthcare and Higher Education.
From 2013 to 2016, she was Executive Dean Health, Engineering, and Sciences at the University of Southern Queensland, where she was responsible for initiating a number of innovative new programmes for the home and overseas markets. Mentoring and coaching her senior executive, she facilitated growth in the number of domestic and international students undertaking higher degrees, including both PhDs and professional doctorates. She also managed the process of university and professional accreditation and established and strengthened collaborations and engagement with industry and other external stakeholders.
In the 12 years preceding her Executive Deanship, Professor Karstadt was at the University of Hertfordshire in the UK, where she progressed from Head of Department to Head of School, to Deputy Dean and then to Associate Director. Throughout, she strived for a nurturing culture, and clarity of direction to maximise productivity and the achievement of strategic objectives.
Professor Karstadt holds a Professional Doctorate in Education from the University of Hertfordshire, a Masters degree in Education and a Bachelors degree in Mathematics from The Open University (UK), and has experience as a Registered Nurse and a licensed teacher.
Following her appointment, the Acting Vice-Chancellor, Dr William May will resume his role as the Dean of FNU's College of Medicine, Nursing and Health Sciences (CMNHS). Dr May was appointed the Acting Deputy Vice-Chancellor in September last year to work alongside the former Vice-Chancellor, Professor Toby Wilkinson before taking on the role as Acting Vice- Chancellor earlier this year.
The FNU Council would like to express our deep appreciation of Dr May's exceptional capabilities and for his service in taking on the role and being at the helm of the University over the last few months.
Tessa Price
Chair and Chancellor of Fiji National University