Flexible fee payment options available for new and continuing students
Press Release Posted On: April 4, 2022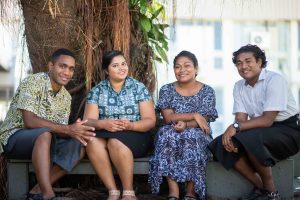 Fiji National University (FNU) students with outstanding fees can continue their academic pursuits and coordinate flexible payment plans to clear their dues.
The University offers flexible payment options that allows students to spread the cost of fees across the duration of their study at no additional costs.
With many individuals and families still reeling from the effects of the pandemic, FNU has implemented flexible payment plans to ensure student learning is not hindered by financial barriers.
New and continuing students facing financial difficulties and seeking to coordinate a payment plan, will be required to fill a Tuition Payment Plan Agreement Form and have this submitted and approved by the University's Finance Department.
The form is accessible on the FNU website on the link https://www.fnu.ac.fj/wp-content/uploads/2021/05/Payment_Plan_Application.pdf
Those with queries can contact the University on RevenueQueries@fnu.ac.fj
Additionally, Year 12, Year 13 and other eligible students can study a technical and vocational education and training (TVET) course at FNU and be one of 5,000 supported by the Tertiary Scholarships and Loans Service (TSLS).
Offered through the University's TVET Pasifika, these courses are Certificate III, Certificate IV and Diploma level qualifications.
Students eligible for TSLS-funded studies must have successfully completed Year 12 with a minimum mark of 200/400 or completed Level I and II studies from the Technical College of Fiji or equivalent.
Semester 1 studies
Applications for Semester 1, 2022 studies at FNU are still open.
For enquiries, students can visit our website on www.fnu.ac.fj email the Academic Team via admission@fnu.ac.fj or call 9555760 or Text (Toll-Free) 857 for Vodafone and Inkk users.
In addition, students, parents and guardians can visit our FNU KONA Express Booths this week (April 4-9) at Tappoo City, Suva, Shop & Save Supermarket in Navua, My FNPF Centre in Nadi and Sugar City Mall, Lautoka for application requirements and academic counselling and queries.
Students can also visit our campuses in Koronivia, Nasinu, Derrick (Samabula), Namaka (Nadi), Natabua (Lautoka), Ba and Labasa to complete their enrolment process.