Fijians encouraged to utilise grants available for short courses at FNU
Press Release Posted On: September 9, 2022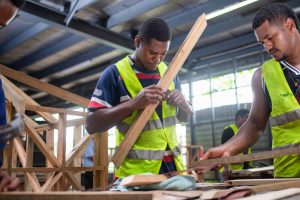 Interested Fijians can pursue a short course at the Fiji National University (FNU) in the construction field via study grants provided by the Tertiary Scholarships and Loans Service (TSLS).
The grant is an initiative to address the need for skilled workers in the construction industry, given the sector's socioeconomic importance in the post-COVD economic recovery of the country.
The eight short courses offered at FNU's, National Training and Productivity Centre (NTPC) are in the fields of Plastering, Block Laying, Tile Laying, Painting and Decorating, Sheetmetal Works, Basic Furniture Making, Basic Plumbing and Construction Fundamentals.
Students interested in the two-week short courses can apply now at FNU to receive an Offer Letter.
The Offer Letter is required in their application to TSLS before the study grant deadline next Friday 16 September, 2022.
In addition, eligible applicants must be a Fijian citizen, be ordinarily resident in Fiji for at least three years before the award commencement date and be fully vaccinated or exempted by the Ministry of Health and Medical Services if above the age of 18.
NTPC Director, Dr Isimeli Tagicakiverata encouraged Fijians to take advantage of the 200 study grants available through TSLS.
"Those who undertake the eight short courses at FNU's, NTPC will receive specialised skills that is highly sought after in the construction sector," he said.
"It is fitting that the grant is available at a time when Fiji is losing out on skilled labourers migrating to other countries."
For further information regarding the short courses, applicants can contact NTPC representatives on the details below:
Narere Campus, Nasinu: Merelita Delasau, Email: Merelita.delasau@fnu.ac.fj , Ph: 3392000 Ext: 4765
Naceva Campus, Lautoka: Sovaia Kubukodrau, Email: Sovaia.kubukodrau@fnu.ac.fj , Ph: 6667000/665021 Ext: 7300