Fiji National University ready to serve prospective students to achieve their academic goals
Press Release Posted On: March 31, 2022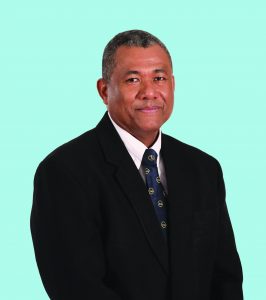 The Fiji National University (FNU) is ready to serve all students following new initiatives announced by the Fijian Government in the revised 2021/2022 national budget delivered by the Attorney General and Minister for Economy, Honourable Aiyaz Sayed-Khaiyum.
FNU's Acting Deputy Vice-Chancellor Dr William May said the university is working with the Tertiary Students Loans Service (TSLS) to ensure all students applying for placements are provided counselling and guided with their applications.
"We have noted a number of new policies that have been introduced by the Government which is good news for all students. I'm sure there will be some who may want to change their programmes and to ensure that there is a seamless transition, we are working together with the TSLS team to ensure students are able to pursue their academic aspirations with us," commented Dr May.
Some of the initiatives announced in the revised budget that students can take advantage of should they join the Fiji National University include:
Free Short Courses
The government will continue its commitment of providing  $1M funding to FNU's Reskilling and Upskilling programme, given its success. Eligible Fijians can apply for a Free short course at FNU as part of the Fijian Government's reskilling and upskilling initiative. This initiative is open to individuals who lost their employment due to the economic impact of the COVID-19 pandemic. This would assist eligible Fijians with re-employment and or entrepreneurial ventures.
To qualify for the Free Reskilling and Upskilling placement at FNU, prospective students will have to submit a Statutory Declaration of unemployability due to COVID-19, a valid photo ID, TIN details along with their birth certificate.
Applications are now open and will need to be submitted by Friday, 15 April 2022.
MBBS Students
As announced in the 2021-2022 National Budget, Government allocated funds for MBBS Students who had privately enrolled and met the criteria for a one-off $10,000 Government Grant. In February this year, 42 students were selected and can use the grant to clear off the fees for 2021.
The Fijian Government will now provide full-time scholarships under the National Toppers Scheme effective from Semester 1 2022. This will amend the existing scholarship regulation to include these students who did year 13 in 2020.
Furthermore, to accommodate the 42 private MBBS students of 2021, the National Toppers Scheme will change to include those who did Year 13 in 2020, had marks of 340 and above, a GPA of 3.0 and above in 2021, and combined parental income of less than $100,000.
For this year's intake, the government will provide 20 MBBS and 5 Bachelor of Dental Surgery awards to new students who have completed Year 13 with a mark of 340 in 2021 through the National Toppers Scheme. Those students who are registered on the TSLS Online Portal for 2022 intake can apply or change their programme to qualify.
Nursing
The quota for the Bachelor of Nursing will be increased to 350. The initial quota was 100 for this programme, however, according to the Honourable Minister Sayed-Khaiyum, this may not be sufficient given the fact that many nurses are resigning – either leaving the profession or relocating. Hence to fill the gaps created by resignations and migration of nurses, the TELS quota for Bachelor of Nursing has increased.
TELS funding for BPO
Good news also for individuals who wish to work in the Business Process Outsourcing (BPO) sector. The government will provide 300 awards for BPO Training under TELS for Technical and Vocational Education and Training (TVET) at FNU.
The Fijian Government through TSLS is offering 5000 places for eligible students who want to take up TVET studies at FNU.
Apply Now
The government has announced that the quota for TELS for degree programmes will now be increased from 2,000 to 2,942, with increased attention to areas such as Medicine and Health, Engineering, Science and Technology.
Furthermore, the Government has considered a one-off temporary measure to reduce the TELS entry mark to 250. However, this does not apply to the  Commerce category, where the cutoff mark will remain at 280 with a quota of 850, due to the oversupply of graduates.
Certain programmes in the Commerce category, such as Accounting, Economics, Management and Public Administration, will still require an entry mark of 300.
"With the new announcement, we encourage all students to visit any of our Enrollment centres at Nasinu Campus, Koronivia Campus, Nursing or Hoodless Campus,  Derrick Campus in Samabula, Namaka Campus in Nadi, Natabua Campus in Lautoka, Ba Campus and Labasa Campus as soon as possible to complete their applications and get ready for Semester 1, 2022," commented Dr May.
Students can also visit our teams, who will be at Tappoo City in Suva, Shop n Save in Navua, Nausori Market bus bay, Sugar City Mall in Lautoka and My FNPF Centre in Nadi this Saturday, 2 April and Monday to Saturday next week (April 4-9).
For enquiries, students can visit our website on www.fnu.ac.fj email the Academic Team via admission@fnu.ac.fj or call 9555760 or Text (Toll-Free) 857 for Vodafone and Inkk users.
Prospective students can also contact our Call Centre on 3432 966 and 9103413 from 9 am to 5 pm weekdays. Vernacular options are also available.