Epidemiologist serves her alma mater
Press Release Posted On: November 30, 2021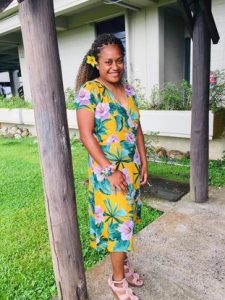 Aliti Kunatoga was always interested in investigating patterns and causes of disease and injury and helping people understand what epidemiology is all about. This led her to join the Fiji National University's (FNU) College of Medicine, Nursing and Health Sciences (CMNHS) as a public health student.
Kunatoga graduated with a Bachelor of Public Health in 2017. The following year she completed her Postgraduate Certificate in Applied Epidemiology and she attained a Postgraduate Diploma in Applied Epidemiology in 2019. Most recently, Kunatoga graduated with a Masters in Applied Epidemiology and a Postgraduate Certificate in Health Research.
"Through my education, I can investigate the source of outbreaks of disease especially how it is transmitted and how to stop and prevent further outbreaks," she stated.
Kunatoga is currently an Assistant Lecturer in Applied Epidemiology at FNU's College of Medicine, Nursing and Health Sciences (CMNHS).
"Teaching is a profession I learnt from my mother who has been a primary school teacher. At FNU, my role includes teaching and programme development including research and preparing and designing of programmes and courses," mentioned the Assistant Lecturer.
"Epidemiology is often regarded as the science or the backbone of public health. Epidemiologists are essential for detecting and tracking health problems associated with both infectious and non-infectious diseases, and developing ways to prevent, contain, and control these health problems."
Kunatoga is urging prospective students to take up the Epidemiology programmes offered by the FNU's College of Medicine, Nursing and Health Sciences (CMNHS).
"The existing number of epidemiologists and the number of new graduates entering the workforce in local health departments are insufficient and this field will help the health department control and prevent outbreaks such as the one we are facing now-corona outbreak," she added.
Admission for Semester 1, Quarter 1 and Trimester 1, 2022 is currently underway and interested students can apply via the Admission Application portal on the FNU website. Click on https://www.fnu.ac.fj/study/apply/ to apply.
Prospective students can also text on 857 or email on admission@fnu.ac.fj if they face difficulties completing the process online or need further admission information.