Dr Singh upskills in Mental Health course at FNU
Press Release Posted On: November 24, 2021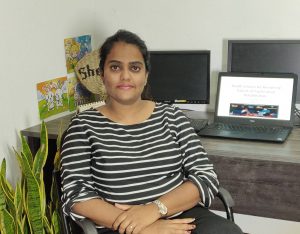 Receiving doctor's kit toy sets as a present during the holidays was an annual tradition for Dr Sheetal Swashtika Singh and one that gradually developed her interest in the medical field. She eventually swapped her toys for a real stethoscope and medical qualifications to treat and care for the sick.
Dr Singh shared that being the eldest of three siblings and growing up with parents whose health was affected played a key role in her choice of tertiary studies.
"My father was the breadwinner but also had a mental condition," she shared. "My mum was a very strong and courageous lady always motivating me to strive forward despite the circumstances, she would care for us with her love and protection whilst my father would be admitted for a couple of months every year."
"While growing up, Christmas was always about getting presents despite our struggles. Every year, my father would give me a doctor's kit set, which had a stethoscope. My father's dream for me to become a doctor motivated me to persist in this journey in medicine, regardless of the turbulent moments."
Dr Singh completed her pre-tertiary education at Bhawani Dayal Primary School and Bhawani Dayal Secondary School. In 2010, she enrolled in the Bachelor of Medicine and Bachelor of Surgery (MBBS) course at the then Fiji School of Medicine, which is now under FNU's College of Medicine, Nursing and Health Sciences' (CMNHS).
"At FNU, I found a new perspective of life and learning that was complemented by peer education and a friendly teaching environment," she said.
"There was always availability of resources in terms of labs, lecturers, tutors and other equipment and the campus life events and activities had always guaranteed the safety of residents."
The 30-year-old is currently a Medical Officer at the Saint Giles Hospital and the Stress Unit at Colonial War Memorial (CWM) Hospital.
Dr Singh attends patients in the clinics both at CWMH for Mental Health clinics and St Giles Hospital, admits cases that need inpatient treatment and attends to forensic cases.
"There is a COVID-19 ward where we have our patients admitted as well whereby, we conduct daily ward rounds," she said.
"Our role also includes facilitating community outreach programmes, home visits and peripheral clinics, which would include Samabula Health Centre and Valelevu Health Centre."
To upskill her qualifications, Dr Singh is currently enrolled in the Postgraduate Diploma in Mental Health course
"Starting work at St Giles and studying my Postgraduate Diploma in Mental Health is something I am thankful to God Almighty for as it is a very challenging field," she said.
"The decision to take this course was to provide me with further insight and improve knowledge and understanding of psychiatric illnesses and its management."
"It also helps me to understand mental health issues better and continuously moulds me into a better doctor, colleague, mother, wife, daughter and individual."
"It is a course which would allow one to learn and care for family and friends better, thus ensuring a successful social, family and work life."
"I encourage other doctors to study psychiatry as it will be beneficial to them and their patients, even if they are in any other fields because there is no health without mental health."
Dr Singh said she was excited to pursue a Master's programme in Mental Health in the coming years since there are various mental health issues in our country and worldwide.
Students who aspire to study at the College (CMNHS) are encouraged to submit their applications at the earliest as the enrolment for the College programmes closes on Tuesday, 30 November 2021.
Admission for Semester 1, Quarter 1 and Trimester 1, 2022 is currently underway and interested students can apply via the Admission Application portal on the FNU website. Click on https://www.fnu.ac.fj/study/apply/ to apply.
Prospective students can also text on 857 or email on admission@fnu.ac.fj if they face difficulties completing the process online or need further information on admission.