CAFF Welcomes Pioneer HDR Candidates
Press Release Posted On: August 27, 2020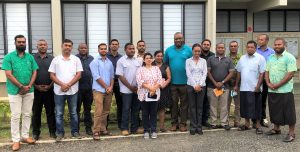 The Fiji National University's (FNU), College of Agriculture, Fisheries and Forestry (CAFF), recently welcomed its first batch of postgraduate students at Koronivia Campus.
The 15 students are enrolled in the newly-introduced Master of Science (MSc) in Agriculture programme, with two of the students opting for the research Master in Agricultural Science and PhD.
Whilst welcoming the students to Koronivia Campus, Dean CAFF Professor Paul Iji said this was the right time to begin offering higher degree studies at the College.
"As the College grows with the University throughout its 10 years of educating the nation, this was an ideal time to begin," Professor Iji said.
"These students have chosen the right place to study, as the College has the most expertise in Agriculture, Fisheries and Forestry in the South Pacific islands, with close to 60 academic staff across its programmes."
"More than a third of these experts hold a PhD and the College is also home to the only Veterinary Science programme in the South Pacific, including Papua New Guinea."
Professor Iji encouraged the students to take charge of their programme and utilise the open-clustered nature of the coursework Masters to explore the field.
"The open clusters allow the students to choose courses in any area of agriculture and not restrict them to any field of specialisation," he said.
"However, the final project in the second half of the programme must be in a specific discipline.  Students are encouraged to publish their research and support one another in teams, as such could lead to joint publications."
Koronivia Research Station, Senior Technical Assistant, Timaima Adimaidreketi said she was grateful to be one of the students enrolled in the programme.
"It was on the last day of Masters enrollment that I heard that it was offered in flexible mode and that Entomology, my main field of interest, was a specialisation that was offer," she stated
"This was the reason I had enrolled into MSc Agriculture, as it was convenient for me as a working student."
"Proceeding with Masters in my field of work is important, due to the fact that my current work involves research on insects and insect pests and disease diagnostics that affect the agriculture sector."
The 28-year-old added that one is never too young or old to undertake higher degree studies.
"At the end of the day Fiji needs a better equipped task force that will propel the country forward," Adimaidreketi said.
Fellow student Avin Prasad said enrolling in the programme enabled him to upskill his qualifications without having to leave the country.
The CAFF Assistant Instructor said after completing his Bachelor of Science in Agriculture at FNU, he waited to achieve his goal of undergoing Masters studies at the institution.
"All of my collogues with whom I studied at the university applied and were awarded scholarships to complete Masters studies abroad," Prasad said.
"I did not apply due to family responsibilities and wondered if FNU would offer Masters in the future, so you can imagine how pleased I was when I heard about this course."
"Graduating with a Master's will strengthen my academic and research skills and change my perspective of teaching and student supervision."