CAFF hosts first 3-Minute Thesis Competition
Press Release Posted On: October 4, 2022
History was made last week as the Fiji National University's (FNU), College of Agriculture, Fisheries and Forestry (CAFF) held its 3-Minute Thesis Competition (3MT).
The Three Minute Thesis (3MT) competition was initiated by the University's Research Office to bring together a diverse and interdisciplinary cohort of higher degree by research (HDR) students to develop elevator pitches of their thesis topics, in plain and understandable language.
In three minutes, participants are required to present their research problem, solution, hypothesis and approach in addressing their thesis topic to an audience of peers, as well as a high-caliber jury of experts from academia, business/industry and the public.
There were four presenters, of which three presented in-person and one via Zoom. CAFF staff and students, as well as representatives of the Australian Centre for International Agricultural Research (ACIAR), joined the competition from Suva and overseas.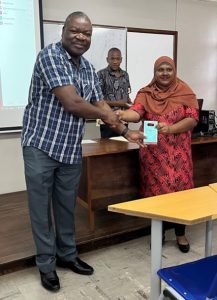 Masters student, Nazia Bano, under the supervision of Dr Hirdesh Sachan, won the inaugural 3-MTC and was awarded a cash prize of $100.
Bano will represent CAFF at the University final event in October.
The first and second runners-up were Atish Chand and Vashnika Narayan respectively. The duo were under the supervision of Dr Salesh Kumar.
Shivani Singh, a Masters student supervised by Dr Royford, was the fourth participant and presented via Zoom.  Ms Singh will be given a certificate of participation only, since the rules do not permit online presentations.
Speaking at the commencement of the event, CAFF Dean, Prof Paul Iji, commended supervisors who presented their students for the competition, and the students for taking up the challenge.  He requested other supervisors to be ready to present their students from next year.
Pacific Agriculture Scholarship, Support and Climate Resilience (PASS-CR) Program Coordinator Dr Linda Wess lauded the College for holding the event.  Dr Wess said she was hopeful that the event participation would increase in the coming years.
Academic staff also provided the participants with suggestions on how to improve their presentations at the University final event.