Apply Now at FNU to turn your dreams into reality
Press Release Posted On: November 21, 2022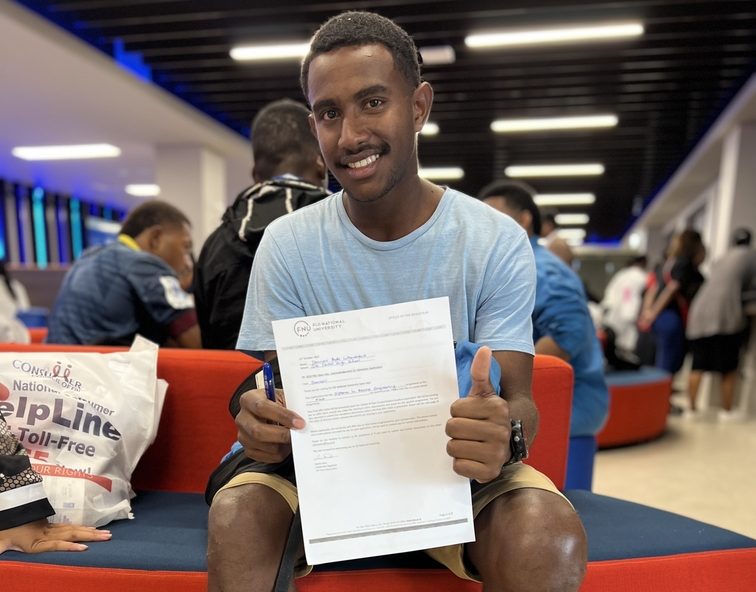 Damioni Lutunatabua aspires to be a ship captain. To make his dream true, the 19-year-old walked out of the Fiji National University (FNU) campus with a provisional Offer Letter for the Diploma in Marine Engineering programme.
The University's Semester 1, 2023 enrolment is open to all students and individuals who wish to join the institution in search of a lucrative career choice, like Damioni.
"I have always dreamt to be a captain in a ship or an aircraft engineer," he shared.
"My father was a Civil Engineer, so I was grew up in a household with an engineering background."
Originally from Qarani, Gau in Lomaiviti, Damioni attend FNU's Open Day in October.
"I attended the Open Day with my school on Friday, and I was inspired by one of the lecturers at the Fiji Maritime Academy (FMA) booth," he said.
"He encouraged me to apply for the Marine Engineering programme. I returned the next day to submit my application and was happy to receive the letter from FNU."
He is the epitome of displaying strength to overcome his struggles.
Lutunatabua has faced many challenges in life. His father passed away when Damioni was young. When he was in Year 11, Lutunatabua lost his 70-years-old grandmother, who was his guardian then.
Despite his family hardships, the Year 13 student of Sila Central High School still has high hopes for the future.
The 18-year-old said his circumstances meant he had to financially support his academic and personal needs.
"If you want to follow your dreams, don't let anyone stop you, including your friends. When I was in Year 12, I faced a lot of challenges and thought I would not be able to pass my exams."
"I was hired by Sun Auto Parts when I was in Year 12 and learnt the basics of mechanical engineering."
"Losing my parents, and then my guardian, did not stop me from wanting to learn and gain skills and qualification to succeed in this world."
Lutunatabua is currently a part-time worker to help pay his way through high school.
The Noqeledamu resident said that during the Open Day, he learnt that FNU offered a wide range of programmes and entry pathways.
"When I visited other universities, they did not have many options, and nothing piqued my interest," he said.
Apply Now
Students interested in the Diploma in Marine Engineering or other TVET courses at FNU can apply now for one of the 4,600 placements available through the Tertiary Scholarships and Loans Service (TSLS).
Eligible students must obtain a pass in Year 12, Certificate I, Certificate II or secure a final offer letter for any Certificate Level III, IV or Diploma level 5 programmes offered at FNU.
For ease in admission and registration, FNU has dedicated Enrolment Centres to serve new and continuing students at the Nasinu, Derrick, Koronivia, Ba, Natabua, Namaka and Labasa campuses.
These centres have staff available to assist students with enrolment, IT requirements, and selection of study options.
For further information, students can visit our website at www.fnu.ac.fj, email the Academic Team via admission@fnu.ac.fj or Text (Toll-Free) 857 for Vodafone and Inkk users.