Airahui graduates with joy from FNU
Press Release Posted On: September 28, 2021

Fiji National University (FNU) graduate Joseph Teainao Airahui believes his passion and determination were key factors in his completion of the Bachelor of Science (Environmental Management) course at the institution.

The Solomon Island alumnus said receiving his qualification as part of FNU's August 2021 graduating class was a gratifying experience. He fondly recalled his experiences during the three years of tertiary studies.

With a previous qualification in Diploma in Finance and Business Administration from the Solomon Islands College of Higher Education (now known as the Solomon Islands National University), Airahui ventured into the Science field when the opportunity arose at FNU.

"I was excited to begin the course at FNU at the College of Engineering, Science and Technology (CEST) and while at first I thought I would be more inclined towards the management and administration aspect, my focus now is to become an Environmentalist," he said.

"It is important that we prioritise and protect our natural environment for our sake as well as the generations to come."

Despite his limited background in areas such as Chemistry and Biology, Airahui persevered and quickly learnt the formulas and calculations, and how to conduct laboratory tests and reports.

With a laugh, Airahui recounts the time he submitted the first lab report as an essay instead of a science lab report.

"The lecturer called me to have a discussion and despite the incident, I continued to study and progress further."

In March last year, he was repatriated from Fiji after the first case of coronavirus was detected in the country. Airahui's sponsors believed it was in his interest and health and safety to be relocated home amidst the pandemic.

"It was my final year of studies, and I completed my units online from Honiara."

"I must admit, I faced a lot of challenges such as conducting field and site visits alone and having to adjust to studying remotely."

"Internet data charges are also quite expensive here, so my scholarship allowance was divided between my data, power, water, food, rent and transportation costs."

"I also had to prioritise both my studies and family as I was the only breadwinner."

The passing of his father in September last year was also a difficult time for Airahui.

"However, despite all of these challenges, my passion and self determination to achieve my Bachelor of Science degree in Environmental Management still remained my number one priority."

"Each time I had difficulties in meeting my assignment deadlines, I counted on the application of the technical field assessment procedures and methodologies that I learnt during my first two years of study."

"I have now successfully earned my degree."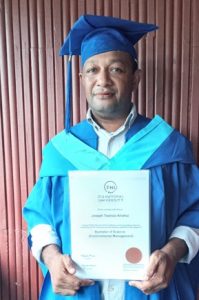 Airahui acknowledged the Head of School of Environment and academic staff of the Department of Meteorology and Environmental Science Administration, his scholarship sponsor, classmates and his parents for their continued support throughout his studies.
"Above all I gave all the glory and honour to God and with God anything is possible." "To all my fellow classmates, always remember my simple advice since our first day at FNU. Just jump over the bar."
Local and regional students interested in studying at FNU next year can visit the FNU website on www.fnu.ac.fj for programme details and entry requirements.
Alternatively, they can also register and participate in livestream sessions during the University's Virtual Outreach Activities (VOA) by emailing outreach@fnu.ac.fj