FNU commences Semester 2 Enrolment Drive
Press Release Posted On: May 19, 2023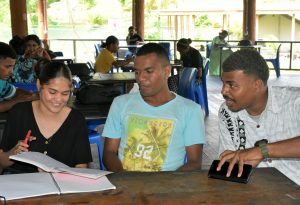 The Fiji National University (FNU) is accepting applications for Semester 2, 2023 studies from prospective and continuing students.
FNU Acting Vice-Chancellor, Professor Unaisi Nabobo-Baba said those who intended to upskill or reskill themselves were also encouraged to submit their applications to achieve their academic aspirations.
"Learning never stops! It is advisable to pick up your studies from wherever you left off and continue with your university learning," Professor Nabobo-Baba said.
"At the Fiji National University, we can assure students that we have courses and programmes suited to your interests and career ambitions."
"With various entry pathways, students can begin studies from TVET levels in Certificate (Level 3) to Diploma (Level 5) or even progress through to undergraduate and postgraduate programmes."
Professor Nabobo-Baba said the University was committed to providing students with an enhanced Student Experience so that graduates would be workforce ready with the required industry skills and knowledge.
"In addition to the qualified academic staff, we have various support services available to help students excel in areas such as Maths and English through peer-assisted learning, mentoring and tutorial initiatives," the AVC highlighted.
"We also have exciting student activities to keep students our community of learners and excited about their studies by participating in extracurricular activities. This provides a balance between a student's academic and campus life."
Interested students can apply online at https://www.fnu.ac.fj/student/ or via email to admission@fnu.ac.fj
For further information or queries regarding Semester 2 application, students can also Text (Toll-Free) to 857 for Vodafone and Inkk users.
Alternatively, applicants can visit any of the FNU campuses to submit applications.
Classes for Semester 2 begin in July 2023.