Enrolment open for Lateral Entry Nursing course at FNU
Press Release Posted On: June 7, 2021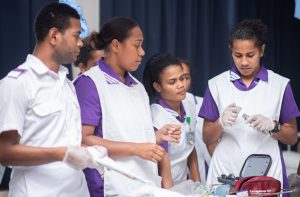 The Fiji National University (FNU) is proud to train skilled health professionals such as nurses, who are playing a crucial role in helping keep communities safe and healthy during the COVID-19 pandemic.
While many nurses are part of the frontline teams conducting screenings, tests and home visitations, countless other nurses are manning health centres and hospitals around the country to provide specialist care services daily.
FNU's College of Medicine, Nursing and Health Sciences (CMNHS), has a strong history and reputation of training local and regional nurses since the former Fiji School of Nursing (FSN), which is now under CMNHS as the School of Nursing (SON).
CMNHS Acting Head of School Nursing, Talica Lewanavanua said many students who aspired to be qualified nurses chose the institution because of its delivery of learning, teaching, and training through qualified lecturers.
"Our Nursing programmes, such as the Bachelor of Nursing (Lateral Entry) course, is designed to ensure that Registered Nurses meet the requirements for all Postgraduate Programmes offered at the School of Nursing," Lewanavanua said.
"This programme will also prepare graduates who intend to further their  nursing specialisation in future."
"Students who wish to take this programme will enhance the quality of nursing services, including the total delivery of health services in Fiji and the Pacific, can do so by enrolling now for Semester 2 studies at CMNHS."
Lewanavanua added that the Bachelor of Nursing (LE), "prepares the nurses for sound knowledge, attitudes and skills that would allow them to contribute effectively within a diverse and complex health setting".
"Through the Bachelor of Nursing – Lateral Entry programme, students, will be able to apply critical thinking, be reflective and inquiry-driven at the workplace."
"They will be able to appropriately respond to the health needs of families and societies and provide holistic and culturally safe nursing care to Fijians within relevant legal provisions."
Interested students can apply online by visiting the FNU website www.fnu.ac.fj or text via 857 or email admission@fnu.ac.fj if they face difficulties completing the process online or need further information regarding enrolment for Semester II.