Professor Dharmendra Sharma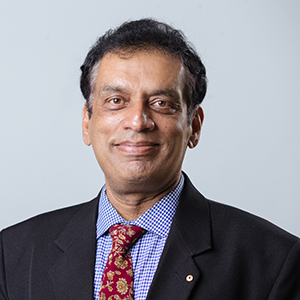 Prof Sharma is currently the Chair of University Academic Board and a Distinguished Professor of Computer Science at the University of Canberra (UC). He had been the Dean of the Faculty of Information Sciences and Engineering from 2007-2012 and as Head of School of the School of Information Sciences and Engineering from 2004-2007 at UC.
He has assumed various senior leadership roles in universities for over twenty-five years and had been made a University Distinguished Professor by UC in 2012.
Prof Sharma's research background is in the Artificial Intelligence areas of Planning, Data Analytics and Knowledge Discovery and their applications to health, education, security and sports. He has published over 300 papers, and has supervised to completion over 35 higher degrees' research students.
He has received several competitive research awards and grants, and recognition for his academic and research leadership initiatives. He has held several academic and adjunct positions with several universities.
Prof Sharma is a Fellow of the Australian Computer Society, a Fellow of the South Pacific Computer Society, and a Senior Member of IEEE.
He is a Graduate of the Australian Institute of Company Directors and has been elected as a Companion of the Institution of Engineers Australia – CompIEAust. Prof Sharma has regularly served on several industry, academic, and research bodies including company boards government advisory and policy committees.
He had completed his PhD from the Australian National University and postgraduate qualifications in Computer Science from the University of New South Wales and postgraduate and undergraduate qualifications in Mathematics and Science from the University of the South Pacific. He has been an academic for over 40 years.
He was the founding President of the South Pacific Computer Society and a Branch Executive Member of the ACS Canberra Chapter.